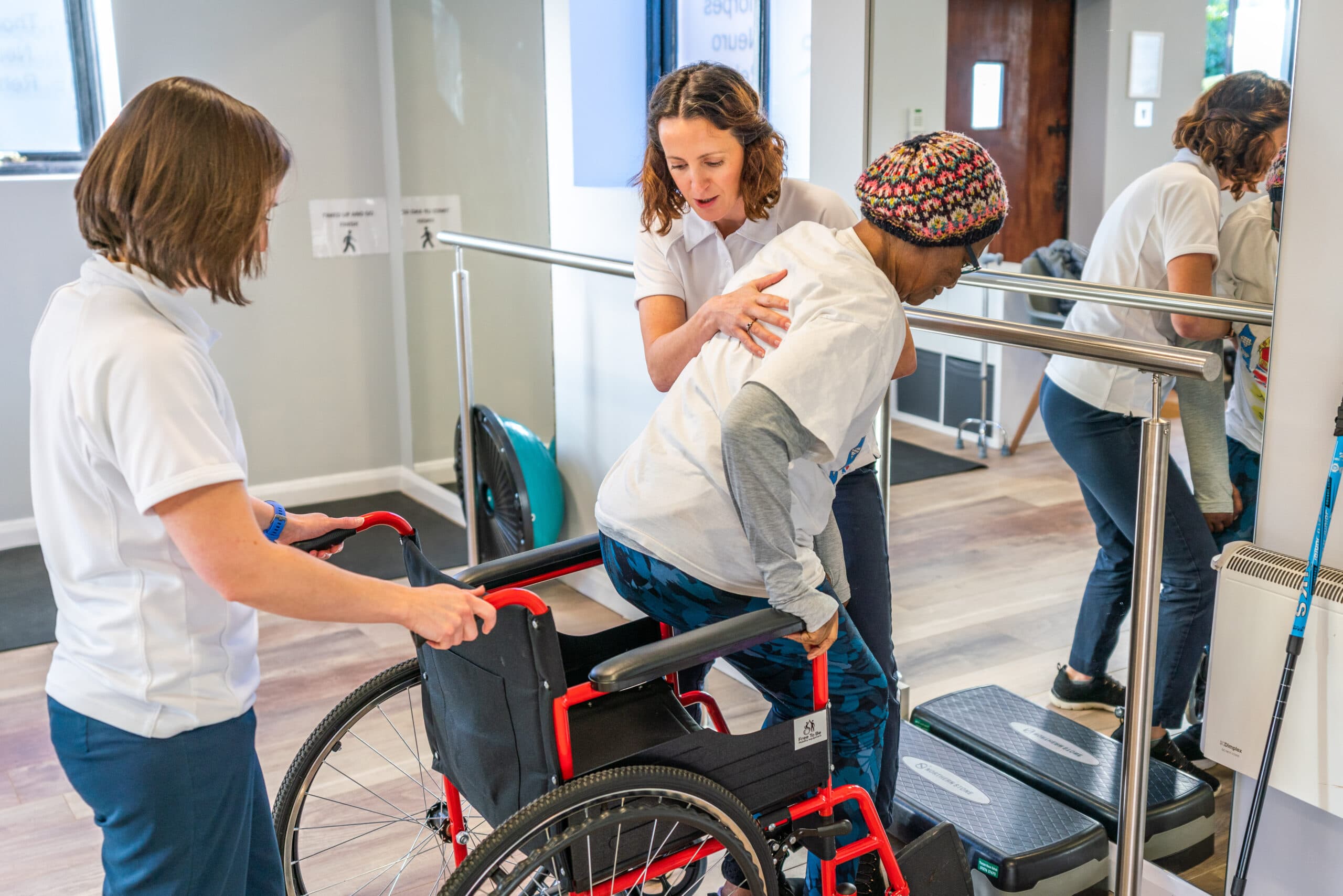 Our Team
We are a team of specialist neurological physiotherapists committed to empowering individuals with Neurological conditions to maximise their independence, and movement potential, helping them achieve the things that are important to them.
Who We Are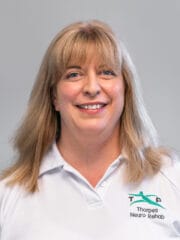 Jenny Walker
Co-Director, Specialist Neurological Physiotherapist • BSc MCSP SRP Bobath trained HCPC - PH57881
Jenny graduated in 2000 from the University of East Anglia and completed her junior physiotherapy rotations at Good Hope Hospital in Sutton Coldfield.  She then moved to Australia for several years where she worked in a private rehabilitation hospital and was inspired by the intensive approach to rehabilitation.  On returning to England Jenny worked for many years as the lead physiotherapist at Frimley Park Hospital Stroke Unit.  Jenny is Bobath trained having completed Advanced courses and has undertaken training with the Australian Physiotherapy and Pilates Institute and PD Warrior.
Jenny is a highly specialist and experienced neuro physio who is passionate about working with patients with a wide range of neurological conditions to achieve their goals and fulfil their potential.  Alongside Hannah Smith, she is a co-director of Thorpes Neuro Rehab which was founded to provide a high-class neuro rehabilitation service to clients.
Outside of work Jenny enjoys spending time with her 2 young sons and husband, socialising with friends and is a keen open-water swimmer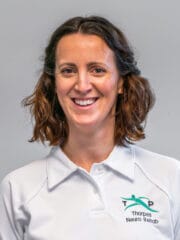 Hannah Smith
Co-Director, Specialist Neurological Physiotherapist • BSc MCSP SRP Bobath trained HCPC - 65343
Hannah graduated with a BSc Hons Degree in Physiotherapy at the University of Huddersfield in 2003.  Following this she completed her junior rotations at Frimley Park Hospital before moving to Southampton to specialise in neurology.  Southampton provided Hannah with invaluable experience in the rehabilitation of many neurological conditions in various settings. Hannah returned to Frimley Park 3 years later, spending 5 years working on the acute stroke unit before moving to the Early Supported Discharge service as a founding member.  In 2018 Hannah joined her husband as a director of Thorpes Physiotherapy and started to develop a service for neurological clients. A few years later Hannah created Thorpes Neuro Rehab in partnership with her friend and colleague Jenny Walker to provide an excellent specialist rehab service.
Hannah's passion is rehabilitation, and she uses a creative and positive approach to inspire her patients.
When not working Hannah loves spending time with her son and husband and walking her dog.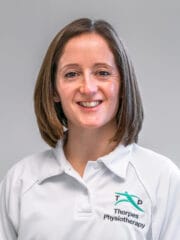 Helen Walcott
Neurological Physiotherapist • BSc MCSP HCPC - PH84069
Helen graduated from Brighton University in 2007 with a BSc Hons in Physiotherapy. She went on to work at Frimley Park Hospital and Wexham Park Hospital before becoming a specialist physiotherapist in neurology at Northwick Park Hospital. Helen is Bobath trained and currently works at a local hospital, leading the neurological outpatient physiotherapy and neurological hydrotherapy service whilst providing specialist neurological support to the wards.
Helen is passionate about neurological physiotherapy and has gone on many courses since graduation covering vestibular disorders, gait rehabilitation and ataxia management. She is a member of special interest groups in Multiple Sclerosis and Parkinsons', ensuring she is up to date with the latest research.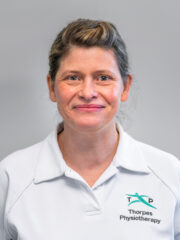 Beccy Oliver
Neurological Physiotherapist • BSc MCSP SRP HCPC - PH59322
Beccy graduated in 2000 from Nottingham School of Physiotherapy before moving south to work at North Hampshire Hospital and then onto Frimley Park Hospital as part of the inpatient therapy team across rehabilitation and acute specialities. Rehabilitation is Beccy's passion in chronic conditions with a focus on Parkinson's. She co-founded the Exercise HUB which sits under the Parkinson's UK charity's Excellence Network and gathers professionals from across the UK to push for gold standard prescription of exercise. Beccy has worked for the Bracknell ParkinsonsUK branch as their exercise lead for over 7 years and has a wealth of experience in the latest research-based therapy. She attended the first UK PD Warrior course in 2015 and is a trained LSVT BIG practitioner.
Beccy loves filling her life to the full with both outdoor and creative pursuits alongside her family of 3 girls and a very outnumbered husband!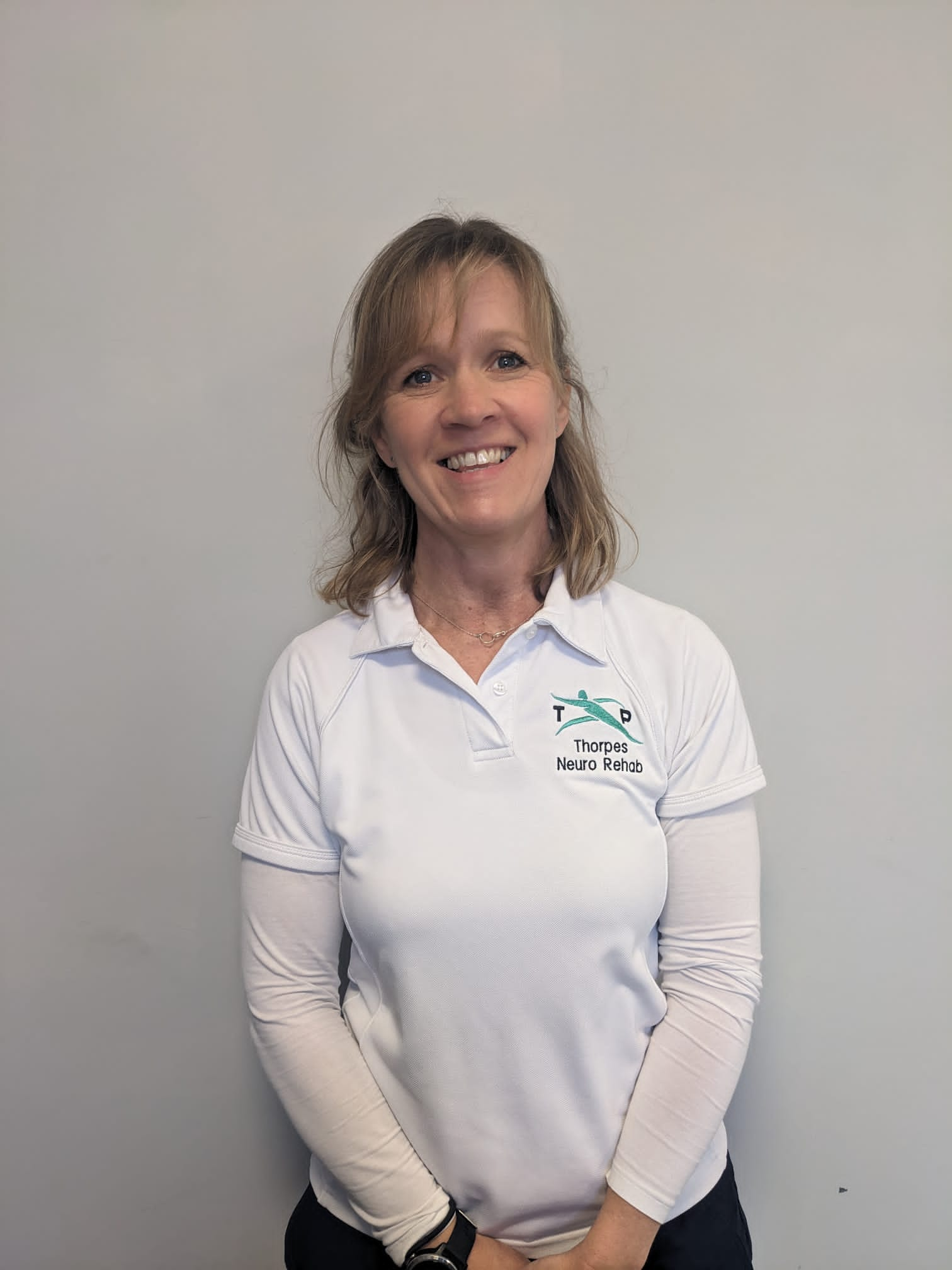 Annie Rainbow
Neurological Physiotherapist • BSc MCSP HCPC – PH59183
Annie qualified in 2000 with a First Class BSc (Hons) Degree in Physiotherapy from the University of East London. After gaining experience as a junior physiotherapist at the Homerton Hospital, London she found her speciality in neuro physiotherapy before joining the neurological team at the John Radcliffe Hospital, Oxford. In 2011, she secured a post as an advanced neuro physiotherapist for the Buckinghamshire NHS Trust. Since 2016 she has been running her own practice in Bucks, specialising in Parkinson's, exercise and community-based rehabilitation. She has worked alongside the Amersham and High Wycombe ParkinsonsUK branch as their exercise lead for 5 years running evidence-based exercise classes in the area, including Nordic Walking.
Her aim is to help people improve their everyday quality of life through functional task training.
In her spare time, she enjoys good food, paddleboarding, skiing and anything outdoors with her husband, 3 children and their dog.
Sonya
Neurological Physiotherapist • BSc MCSP SRP HCPC
Sonya graduated from the University of the West of England with a 1st class BSc honour degree in physiotherapy in 2003. After gaining valuable experience during rotational positions in Bath and Brighton, Sonya specialised in neurology before moving to Berkshire.
Sonya is passionate about neurological rehabilitation as well as working with older people. She has a special interest in balance rehabilitation and has attended further training in 'Translating Research into Clinical Practice'.  She is a member of The Association of Chartered Physiotherapists in Neurology (ACPIN) and regularly attends courses. Sonya works with a holistic approach and can draw upon specific training in Adapted Yoga, Tai Chi, and mindfulness to complement her physiotherapy management programmes, where appropriate. 
In her spare time, Sonya loves yoga, mindfulness, gardening, dog walks and Argentine Tango.
Caroline Bicheno
Neurological Physiotherapist • BSc MCSP HCPC PH54142
Caroline graduated from Liverpool University in 1998 with a BSc (Hons) in Physiotherapy. Her passion to become a Physiotherapist came from a personal experience of neurological rehabilitation when she was diagnosed with Guillian Barre Syndrome at 17yrs old. She went to work at Kings College Hospital to cover her junior rotations and continued to be drawn to anything neurological so moved to the National Hospital for Neurology & Neurosurgery. Having gained experience in most facets of neurology including Advanced Bobath training, she moved to North Hampshire and worked at Farnham, Haslemere and Milford Hospitals. She decided to specialise more in MS and was the lead Physiotherapist at the Samson centre for MS for 5 years before setting up her own neuro physio business. She has continued to challenge herself by studying diploma level 4 sports massage, running and walking coaching and more recently a MSc in Human Nutrition and PGcert in Sports Nutrition, providing support to track para-athletes. Caroline missed the team working so is excited to be joining the extensive experience at Thorpes Neuro Rehab.
Charlotte Eley
Neurological Physiotherapist • BSc MCSP HCPC - PH118992
Charlotte graduated with a First Class BSc (Hons) Degree in Physiotherapy from King's College London in 2019. Following this she completed her junior rotations at Ashford and St Peter's Hospitals before moving to Southmead Hospital in Bristol to gain further experience in major trauma and neurosciences, where the desire to specialise in neurology was cemented.
Charlotte is passionate about neurorehabilitation and uses a combination of specific impairment-based treatments and functional task training to support people to achieve their goals. Charlotte has recent experience working with older patients with multiple comorbidities and has an individualised approach to support the person to get the most out of their rehabilitation.
 In her spare time, Charlotte enjoys anything outdoors be it walking, hiking, running, cycling, climbing, horse riding, the list goes on. You name it and she will give it a go!
Ali
Physiotherapy Technician
Ali qualified as a personal trainer in 2016 and soon gained a qualification in Exercise referral, working with local GP surgeries to help local communities to learn the health benefits of exercise and lifestyle changes. In 2022, Ali qualified as a sports therapist which gave her skills to assess and treat injury and dysfunction in the body, using appropriate exercise and soft tissue massage techniques. Outside of work, Ali is keen on yoga and enjoys adventure running.
Get In Touch
Appointments available Monday to Friday, 8am to 6pm by prior arrangement only.
Please contact us now for further information.
Email Now